September 23, 2023

Saturday, 3:00 PM to 5:00 PM

Adventist Community Services
Food Pantry Open
Saturday, 3:00 PM to 5:00 PM
September 23, 2023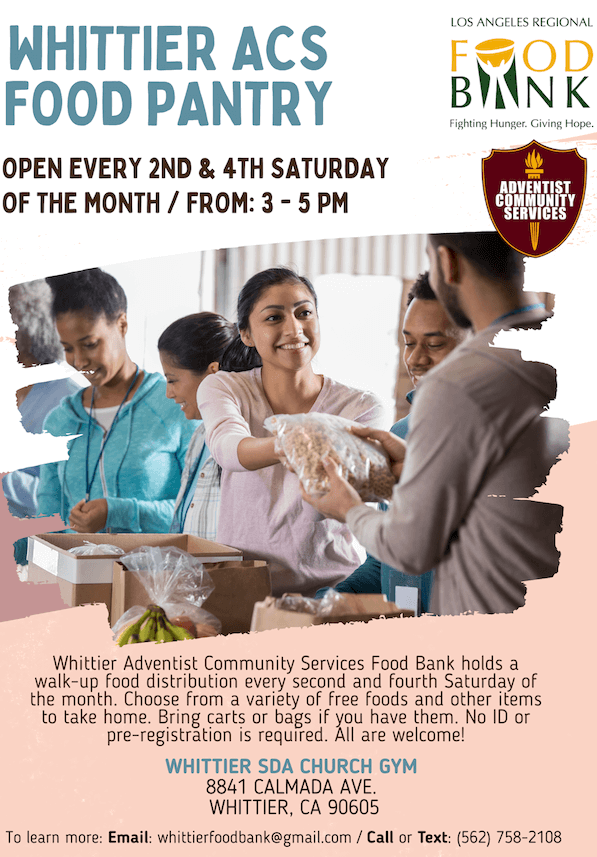 Whittier Adventist Community Services Food Pantry is open every 2nd & 4th Saturday of the month from 3 to 5 PM. Choose from a variety of free foods and other items to take home. Children's toys and diapers are also available while supplies last. Bring carts or bags if you have them. No ID or pre-registration is required. All are welcome!
For more information: Email – whittierfoodbank@gmail.com Call or Text: (562)758-2108
Servicios Comunitarios Adventistas de Whittier les ofrece un evento especial de distribución de alimentos cada segundo y quarto sábado del mes.
Puede elegir de una variedad de alimentos gratis para llevar a casa. Juguetes para niños y pañales para bebés (Tallas 2 – 6, XL) Disponible mientras duren las reservas.
Traiga carritos o bolsas si los tiene. No se requiere identificación. Todos son bienvenidos!
Para más información: Correo electrónico: whittierfoodbank@gmail.com
Llamada o mensaje de texto: (562) 758-2108